---
---
Saturday 9th November 2019
An evening of Rock 'n' Roll featuring local band The Pontiacs.
Further details to follow.
---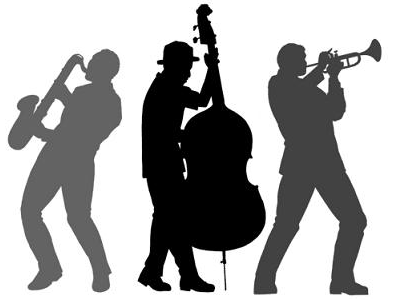 Saturday 4th May 2019 from 7:30pm
The Pedigree Jazz Band are returning to the Village Hall for the 6th year running in what has become a favourite Callow End entertainment.
A Chilli Supper is included. Licensed bar on the premises.
Tickets £12 each from Val Durnall 01905 830469 or Chris & Sue Cassidy 01905 831019
The raffle proceeds are for the hall funds.
---
The traditional Callow End carols held in December raised £118 for the Link Nurseries at Powick.  The money will specifically be used for the Well Bean Gardening Club to buy preservative for the fencing in that area, kneelers for people to work on their plots and small dead head snippers.  Many thanks for all who supported the event.  The Callow End Carols will be held again on Thursday 19 December 2019.
---
Starting on Friday 2 March 2018 at Callow End Village Hall, an award winning Song & Dance preschool activity with fantastic music for children aged 1 – 4 years.  At My Baby Can Dance we offer weekly sessions where we combine movement to music with activities, singing and musical instruments, numbers, colours, phonics and shapes also looking at topics such as the world around us and health & hygiene and road safety for children.
My Baby Can Dance is a winner of a Best Pre School Activity in a vote by Netmums.com
For more information please contact Donna on 07713 889 954 or donnambcd@gmail.co or Facebook my baby can dance Malvern
---
Saturdays 9.30am – 11.00am
Fun, engaging, weekly cooking classes for children 2 – 12 years
At Cook Stars, every child has their own workstation and creates their own dish each week from scratch using fresh ingredients.
"Children are immensely capable and parents are amazed at the variety of dishes their children cook with us! By getting kids involved in preparing and making their own food it is amazing what they will try."
At each class everything is provided from all the equipment to the ingredients, aprons and a recipe card to take home. The children also get to do a different craft activity each week while their dishes are in the oven cooking.
As well as offering a range of pre-school, after school and Saturday classes, Cook Stars also provide parents with hassle free birthday party experiences and host themed workshops.
Booking Essential
For more information please contact Helen 07512 802660/01684 491896
---
A new weekly beginners Karate class starts at the Village Hall on Friday 15 September 2017; initially the class will last for one hour starting at 5.00pm. All instructors are fully qualified and CRB checked; parents are welcome to watch the class.
For more information visit www.kombatkids.com or telephone either Selina or Steve on 01543 473408/07730 899 722
---
Every Wednesday evening 7pm – 8pm starting 7 June 2017
Enjoy Freestyle Fitness Yoga with Denise and discover the benefits of being…..Strong yet relaxed, Controlled but free, Energised while calm.
Freestyle Fitness Yoga is a fitness programme that incorporates stretch, strength & Yoga postures.
This class is suitable for men and women of any age, looking for a more fun style of Yoga class.
Please bring your own mat.
Booking advised as places are limited.
---